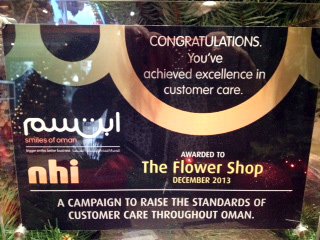 Staff at the Flower shop in Sabco shopping complex Qurum were delighted last week to receive the first ever Smiles of Oman partner plaque for display in their shop. Shop Manager Emma Brown said " We are delighted to be first company to achieve this award. Our team works hard to satisfy our customers and it's great for us all to achieve this recognition"
'Smiles of Oman' – A national hospitality institute (NHI) campaign to raise customer care standards in Oman – has successfully been launched with a number of organizations in Muscat.
Employees from banks, hotels, retail outlets and utility companies have attended Smiles of Oman training programmes for front line and supervisory staff.
The training is interactive and fun, and includes a mystery shopping activity, through which participants gain a powerful insight into current levels of customer care in the capital area. Companies aiming for a plaque must undergo mystery shopping themselves and must design a customer charter for their premises .
"We are strongly committed to the Smiles of Oman initiative", says Robert MacLean, Principal of NHI. "We aim to change the local customer care culture and mind set, and also to raise customer expectations. In addition to this we want to raise awareness amongst customers about the need to be more pleasant to service staff,