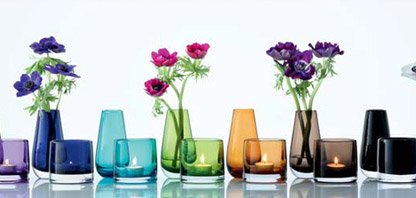 The Exciting new collection from LSA INTERNATIONAL exclusive to The Flower Shop.
LSA International, one of Europe's leading brands of contemporary handmade glass and porcelain. Renowned for their unique style, original designs and enduring quality and launching 250 new products each year, all designed by the Creative Director Monika Lubkowska-Jonas and manufactured in the EU.
We have an inspiring NEW collection of beautiful handmade flower vases in top interior colors for the season, Unique mouth blown vases with rustic character , stunning candle holders , and Brand new to The Flower Shop the SERVE collection.
Come in and see us at The Sabco Center to view the stunning new collection or call us on +968 24560043 for more info.
Collection Lotta
Simple, clean lines, combined with the natural warmth and softness of ash, gives Lotta its unique character. The natural texture of the wood, with its soft undulating grain, combined with the smooth surface of glass and specially vitrified white porcelain balances familiar comfort with sleek refinement. All pieces are beautifully gift-boxed for the highest-quality presentation.
Collection flower
A classic collection of handmade vases, Flower accommodates a wide variety of cut flowers and foliage for use throughout the home in all seasons. Equally well suited to more formal arrangements Flower also makes a perfect wedding or anniversary present, beautifully presented in its high quality gift boxing.
Collection flower Colour
Created by Monika Lubkowska-Jonas, Flower Colour is a comprehensive and collectable range of handmade vases in a selection of colours, shapes and sizes. This versatile collection of luxurious cased glass vases creates impactful displays and includes a style to suit every taste. Each item is presented in high-quality gift box packaging.
Collection Serve
Serve in style with one of four new sets in our classic Bar and Serve collections. Each set is designed to offer exceptional presentation for any occasion. An ideal gift, if you can bear to give it away.
Collection Invalo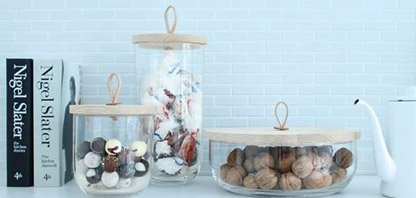 Hand-knotted leather, natural ash and mouth blown glass create a balance of texture and tone that perfectly complements Ivalo's high-quality finish and minimalist and style. Available in three size options, each with a step in its ash base, Ivalo's hand-finished dome nestles snugly on the FSC approved ash base.
Collection Paddle
The Paddle collection is inspired by mountain bars in the Tyrol, where shots of home-brewed schnapps are offered from person to person on specially-crafted wooden trays. Designed for relaxed, social occasions, Paddle features hand-finished oak boards to add style whilst securely nestling glasses and bowls for serving. Each set is individually gift-boxed, creating stylish presents.
Collection Umberto
Created by skilled glass artisans using centuries-old techniques, each individually-made mouth blown vase has thick walls and a jar-like neck sculpted by hand using wooden tools. This versatile collection is ideal for flowers or as a sophisticated and original display for favorite objects.
Collection Inza
Subtle and sophisticated Inza is inspired by the contrasting textures of chiffon and silk. Choose just one or select a group; each colour is designed to work perfectly with the others. Handmade and mouth blown, this unique collection is supplied elegantly gift-boxed.
Collection Light
An extensive collection of classic handmade candleholders designed to enhance both your home and garden. Each piece is supplied with its candle and is gift boxed making an ideal wedding or anniversary present. A wide variety of shapes and sizes ensure you can find just the piece to suit your needs.