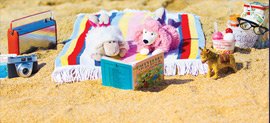 They have landed!!!
Come check out our New Jellycat collection all the way from London.
The full range of Jellycat soft toy silliness – now available at The Flower Shop! Explore all the quirky cuteness from the creators of the softest toys you have ever hugged, cuddled and adored. Established in London in 1999 and launching many new soft toy designs every January and July, there is always something original and quirky yet incredibly soft and sumptuous to find at a Jellycat jamboree! Irresistibly cuddly, sophisticatedly silly, hilariously humorous, a perfect gift for all ages!
Check out the full cuddly collection here at The Flower Shop. Bashfuls, Moonbeams, Nuggets, Fuddelwuddles, Cordyroys, and bundles of bears. Scrumptious cuddles with faithful favourites!
All Things Girly
Full of character, the girlier members of the Jellycat gang love to skip, giggle and play! Hang out with the Jelly Belles- they'll give you tips on hair dos and hop scotch. Or, be a little calmer with Sleepy Babies and join them for a midday nap. Whether you're looking
for a cutie soft doll or a pretty soft toy, whoever you choose to take home is sure to make playtime bonny and bright!
Jelly Belle Lily

A classy, sassy lassie!
Jelly Belle Lily is grooving along to her favourite song. Her tawny hair is all softly spiked up and she's tip-tapping her ultra-cool new blue shoes! Stripey tights and a flowery skirt and Lily's ready for the city hustle-bustle.
Jelly Belle Daisy

Bubbly and friendly, Daisy's all bendy!
No need to frown – Daisy's in town! With long stripey legs and funky blonde hair, it's clear that she loves to dress up. She also loves running – see her zooming along in her raspberry shoes! Her friendly smile and flowery skirt make her a great girly gift.
Gorgeous Girly Bunny

Funky fashions for this bunny diva!
Gorgeous Girly Bunny loves to dress up! A pretty print smock, pink tights and soft shoes, and she's ready to go! With a flower and a smile, she's always in style, and makes a great gift for groovy girls!
Bedtime Bunny

Sleeptight with this pretty little bunny.
Bedtime beckons for this little Bunny and she can't wait to get all warm and cosy in her pretty nightie. She hops into bed without a quibble and settles into her feather soft pillow. Sweet dreams Bedtime Bunny, we'll see you tomorrow, ready to bip boppity, bounce through the meadow!
Gorgeous Girly

This bonny mouse is scampering down the catwalk!
Gorgeous Girly Mouse is crazy about colours! Skipping along in vintage style, she's made from smooth, light velour and wears a playful print dress, red shoes and bright flower clip. Even her soft ears have a charming blue lining!