Our New collection has arrived ..luxury scented candles from New York and Paris.
We're starting Summer with our new NEST fragrance, Lemongrass and Ginger. The scent is a very calm, neutral spa like scent with notes of thyme, eucalyptus, and sage.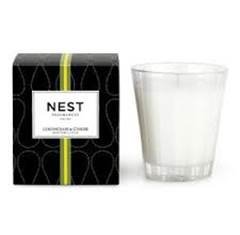 We are also launching the matching hand lotions which are available in our ten best sellers—bamboo, grapefruit, Moroccan amber, blue garden, beach, moss and mint, Sicilian tangerine, vanilla orchid and almond, orange blossom, and wasabi pear.

NATORI CANDLES by NEST FRAGRANCES
Josie Natori, international fashion designer and founder of the Natori Company, has partnered with NEST Fragrances on an exquisite new candle collection inspired by the designer's Asian heritage and passion for discovering and creating one-of-a-kind treasures.
"I love to collect exotic and beautiful objects from around the world – intricate textiles, antiquities and artisan designs. Inspired by my passion for uniqueness, each piece in our candle collection is handcrafted to be a personal treasure: a modern harmony of East and West, a sensual palette of color and texture, a glamorous thread to weave into your life each and every day," said Josie Natori.
Adorned with elaborate dragon imagery, Natori's luxurious Black Amber & Jasmine fragrance features delicate scents of wild jasmine, night-blooming lily and ylang warmed with hints of cedarwood and amber. The collection is available in a
classic candle topped with a three-dimensional dragon effigy, incense set featuring a sleek lacquer box, and a three-piece votive set, each item housed in a beautiful, ornate vessel. The Natori Candle collection is a true work of art that brings a beautiful, tranquil and spiritual atmosphere to any living space.
The Natori Company was founded in 1977 and today is one of the fashion industry's most recognizable brands. Founder and CEO, Josie Natori, trained as an investment banker, but gave up spreadsheet for sketching when she started Natori from her living room. Josie Natori, Natori, Josie by Natori, and N Natori comprise ready-to-wear, lingerie, sleepwear, home accessories, towels, fragrance and eyewear found at the world's leading retailers and specialty stores, including Neiman Marcus, Saks Fifth Avenue, Nordstrom, Bloomingdales and Dillard's, among many others.
New From: Made in Paris
Most visited capital in the world, Paris in an inspiration.
The brand "Ville de Paris" evokes the romance, the architecture, the history … Narrow streets and intimate passages away from the crowd, stunning views and neighborhoods full of history, the Seine and green spaces… The city of Paris has many facets to visit and rediscover.
To pay tribute to the most emblematic areas and monuments of the capital, the City Hall of Paris and the company Made in Paris united to imagine a collection of 8 scented candles. Made in Paris and just join brands as Mariage Frères, Vélib 'or Fermob.
Like the world's major cities such as New York, London or Amsterdam, the candles of Ville de Paris will allow the admirers of our beautiful city to take home a souvenir of their favourite area or monument, while instilling their homes with a touch of French elegance.
The glass is mouth-blown by masters of glassmaking in the purest tradition. The wax is natural; the 8 perfumes are created by a Nose and developed in the South of France.
The 8 assembled boxes represent the Eiffel Tower.
Candle with 190g of wax, burning 40h – individual box : H10.5cm x l 8.2cm x P 8.2cm
Champs Elysées :
The sparkling, festive and glamourous notes of champagne characterize this fruity, green and fruity frangrance. It recalls the smell of Paris on New Year's Eve all along the Champs Elysées.
Butte Montmartre :
Floral, fruity and green fragrances embody the fresh and literary breeze characteristic of Parisian artists
Saint Germain des Prés :
Under the influence of the Sorbonne, this area of the « rive gauche », has always been, since the Middle Ages, the center of political movements and a meeting place for students, writers and artists. The woody fragrance, create with amber and vetiver, takes us to the heart of this intellectual atmosphere.
Canal Saint Martin :
This perfume, made of flowers, fruits and vanilla, recalls the atmosphere of a summer walk along the canal.
Le Marais :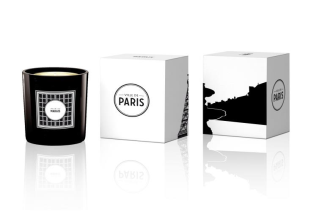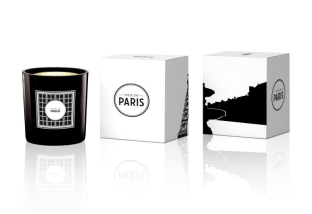 An interpretation of the atmosphere in the elegant homes of the Marais created from woody, leathery notes, recalls memories of the old houses of Parisian nobility.
Ile Saint Louis :
Walking around this island, away from main roads, in a quiet atmosphere filled with powdery and floral scents, brings about feelings of serenity.
Place Vendôme :
French luxury and excellence transcribed in an extremely refined, floral fragrance
Place des Victoires :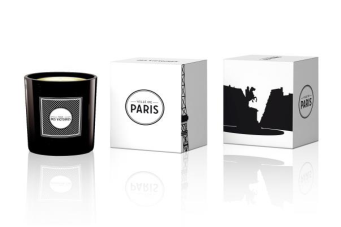 The elegance and refinement of the Place des Victoires in a floral chypre and musky, chic and elegant fragrance.