Luxury at its best came to Muscat for the 2017 Conde Nast international Luxury conference.
We were extremely privileged to be asked to create the florals for the event.
With a combination of Hot pink Peonies, Hydrangeas ,David Austin roses ,Tulips and Hyacinthus we created Luxury florals for Suzy Menkes and her luxury business and creative leaders and speakers to enjoy throughout the conference. The third Condé Nast International Luxury Conference retraced the passage of the Silk Routes and also looked beyond the immediate region to the wider, international luxury world. The program explored how new wealth and untapped markets are the next great source of growth for the luxury industry in the 21st Century..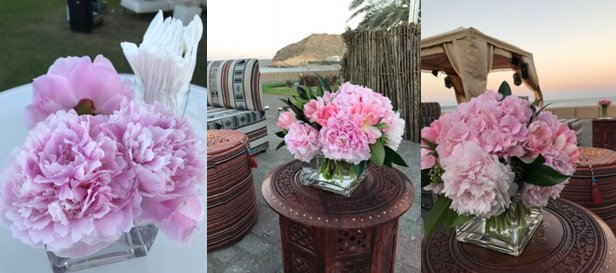 The Condé Nast International Luxury Conference 2017 will explore the vast reach of 21st-Century luxury. Oman stands at the nexus of this global trade, offering a unique perspective that encompasses India to the Far East, Europe to Arabia.
Suzy Menkes International Vogue Editor